This page is mirrored from our Cirneco.org.uk site
Cirneco.org.uk will be retired in March 2019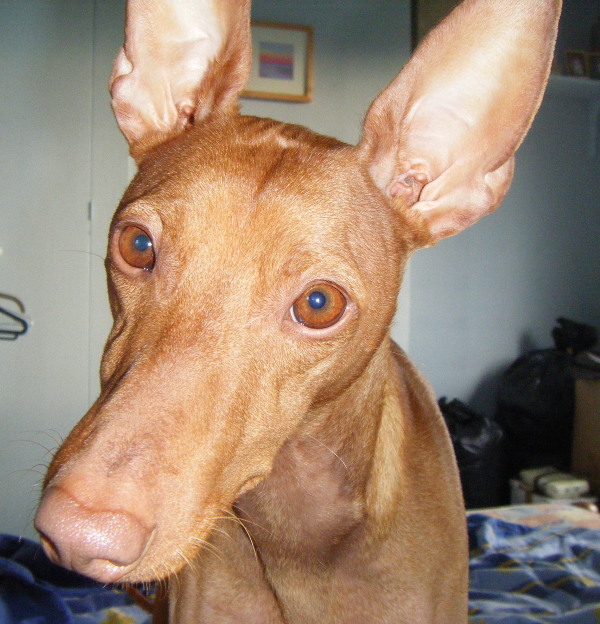 Lorenzo in December 2006
2nd June 2005 - 11th May 2017
The 2nd of June 2005 was an overcast and damp Thursday in the South West of England, when a tiny ray of sunshine arrived. We didn't know it then, but it would bring joy into our lives for more than a decade. His name "Tamilay Born to be King" was derived from a Queen song, all Tamilay kennel names have a Queen connection, but he was to be known as Lorenzo to you and me. Lorenzo, was an only pup, and it transpired, the only pup Milena (Melena del Tamilay) would produce. Milena was the first Cirneco dell'Etna registered in the UK, born in Italy in 2000, she came to the UK in 2001 when 11 months old. Her new puppy in 2005 was the first of the breed to be bred here in the UK* (see footnote below for clarification), and Marion and I were privileged to be selected from the many interested parties wishing to be the human parents of the little bundle of mischief!
Lorenzo came to live with us that August, and quickly settled in to be the most delightful little dog either of us had ever known. Yes, we spoiled him, yes, he was our "little boy in a dog costume". As Lorenzo was one of very few of his kind here in the UK, we didn't really know what to expect of his behaviour as he grew up. From the offset he was always mischievous, but always gentle, and surprisingly careful. If a toy was flung accidentally to a spot where he knew he shouldn't go, such as near the TV, or into a flower bed, then he'd look to us, asking for us to retrieve it. He eventually got used to being told it was OK if he was careful, and he'd tentatively remove the offending toy slowly, and carefully, so as not to disturb ornaments or flowers.
Everyone thinks their dog is clever, and so it'll be no surprise that we think Lorenzo was a smart dog. He knew his toys by name, and when we asked him to get a specific one from his box, he'd obligingly return moments later with the correct one, ready to play, and play, and play! But when he was tired after all his play, he loved a snuggle. We had vowed never to allow dogs on the furniture, but Lorenzo soon made us break that rule. For a skinny hound with "too many legs" he was surprisingly cuddly, and most evenings would be spent snuggled up with Marion and I on the sofa.
He was a runner. Oh he loved to run, and chase bunnies, pheasants, and squirrels! We'd walk along the old railway lines of our then home village in South Northamptonshire, and he'd sometimes get the chance to run with other dogs, merrily running rings around them. Occasionally he'd scare us by disappearing from view, and one day in the woods he ran and ran and ran. We could hear him "yipping" his gleeful hunting call far in the distance, but his selective deafness ignored our calls. We became much more careful with him from then on, and he only ran free in closed open fields where we could always see him.
Lorenzo did not go to kennels very often. We didn't like to send him away if we could take him away, and so he saw many holidays in Whitby, Suffolk, and the West Country. At the end of 2015 we moved to mid-Wales, just 20 minutes or so from the beach at Borth. As 2017 began, looking forward to another Summer of fun and frolics, our little 'Enzo became sick. On reflection, we think he may have been poorly for some while, but as is so typical with dogs, they carry on regardless, and the symptoms do not show until well advanced. A persistent cough was found to be caused by a massive tumour, on his heart and secondary growths in his lungs. There was nothing that could be done. Our bounding boy suddenly slowed and became old, just as spring was returning. Five weeks after learning of his illness, he passed away on the 11th May 2017, a bright sunny Thursday morning here in mid-Wales, just a few weeks short of his 12th birthday. As if in sympathy for his passing, the clouds soon covered the sky, and the warmth of the sun diminished. Our little ray of sunshine was gone.
We'll always remember his mad "bum tucking" dashes he'd perform around the garden (and the living room when he dared!), and the boundless energy he had for tugging on "loop", the toy he "found" at Discover Dogs in 2006. That toy remained his favourite throughout his life, and we'd tug on "loop" until my arms hurt. He was a careful dog, most of his toys survived intact for more than a decade. But now it's my heart that hurts, as a short video of him playing in the garden on the day he arrived, tugs hard at my heart now as I type. Everyone who has dogs, has that one dog, the dog of their life. Lorenzo, you are the dog of my life, and I'll never forget you. Run on to Rainbow Bridge, we'll see you on the other side. I cannot imagine how it must feel to lose a child, the pain of losing a beautiful dog, that had really lived his bound to be short life, is hard enough. His KC name, "Tamilay Born to be King" is inspired by the lyrics in the fabulous Queen song, "Princes of the Universe", and so it seems apt to ask, "Who wants to live forever?", "What is this thing that builds our dreams yet slips away from us?"
* Lorenzo is beleived to be the first Cirneco conceived here in the UK. The first litter preceeded him by a couple of years, having been born to an imported bitch in 2003.
to top of page
to Cirneco info page
© Alex Burnham
last updated: 11 May 2018